Mary's endorsements and testimonials.
What a breath of fresh air! Her style is contagious, and her spirit is beautiful. Kids of all ages (even gray-haired granddads like me) never tire of her tunes or forget her lyrics. (Chuck Swindoll – President, Dallas Seminary & Author)
Thank you again for the wonderful concert on behalf of Angel Tree and for your kind words from the platform about the work of Prison Fellowship, and Angel Tree in particular. The work and endorsement of others in ministry like yourself is important to our efforts to minister to prisoners, ex-prisoners and their families through the local church. (Charles W. Colson – International Speaker, Radio Commentator & Author)
Mary is the best in honoring God with her concerts. They are great for families and children!Book her if you can because she will be a blessing to your church! (Steve Larson, Senior Staff Member, Global Training Network)
I want to thank you for your great new CD! It is wonderful! It has been in my son's CD player for weeks, so it has passed the test and is a hit! Again, congratulations! (R. Bondi – Inspirational Singer, Speaker, & Author)
Not only are you wonderfully talented — but all I hear day and night around the house are Mary Rice Hopkins songs! (John Trent, Ph. D. – Speaker, Author, & President of Encouraging Words)
Mary is a wonderful communicator. She speaks from her heart. She has an urgent desire to help families stay close and be God centered. She communicates with sincerity, clarity, and her natural humor engages all ages. (Fern Nichols, Founder/President, Moms in Touch International)
"Mary performed a delightful concert here a few years ago. I attended the concert and was impressed by her music, her obvious love of children, and her ease of communicating and interacting with them. Mary's music has been well received by members of our congregation and is used by our children's ministry." (Max Lucado, Author, Pastor, Inspirational Speaker)
"Invest in good Christian children's music such as Mary Rice Hopkins, Psalty the Singing Songbook, and others. There are great lessons and qualities to be learned through some of these catchy songs. Don't be afraid to dance and be silly with your children so that they can see that knowing God and doing His will can be a lot of fun." (Excerpt from the book Turn Around at Home by Jack and Lisa Hibbs)
"Mary Rice Hopkins and Darcie Maze are persevering God's Word for this young generation through Mary's original music and Darcie's puppet ministry. The Lord has immensely blessed these dear ladies with incredible talent! Thank you for blessing early educators!" (Sara Jo Dillard, Director of Early Education Resources Association of Christian Schools-ACSI)
I first met Mary while on a mother-daughter retreat with my daughters at the Alpine Conference Center in California. The retreat was for mothers and daughters of all ages, and I wondered how she and Darcy would engage a group with such a diversity ages–from toddlers to grandmothers. I perceived Mary's ministry as designed exclusively for young children, and thought for sure my budding teens would be rolling their eyes and looking for a quick escape!
My experience of Mary and Darcy was delightful and, to my surprise, my tween daughters were fully caught up in the joy, enthusiasm and humor that was poured out by the bucket loads! I am certain I took away as much as the kids did. Mary has a very charming and winsome way of engaging people through song and her love for God. She makes it evident that truth is truth for all ages, and joy is available and abundant for all who find life is Jesus Christ! (Judy W.)
Webster's dictionary offers too few adjectives for describing the heart-touching, life-changing sessions by Mary Rice Hopkins and Darcie Maze at our Children's Ministry Conference. These ladies are an unforgettable, high-energy team with a professional, multi-media presentation which transitioned from hilarity to deeply moving moments. All participants left equipped, motivated and challenged to do their part in helping children become kingdom-focused. (Betty Robertson, Founder / Executive Director Virginia Christian Education Association)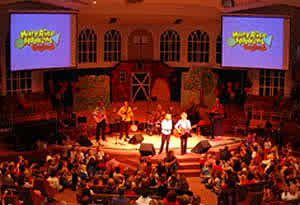 I wanted to write and thank you for the wonderful job you did at our Home School Conference. Your music was very well received by the families present. Beyond that, your message honored Christ and, therefore, added special meaning to the event. (Glen L. Schultz, Ed.D., Manager, Christian and Home School Service)
"For anyone who hasn't heard Mary's music before, you are in for a real treat!!! We have been using her music with our kid's choirs for over TWENTY years!! We are starting a whole new generation of her fans!!! Her message is pure and simple. And the songs will stay in your head AND your heart forever!! Our small rural congregation has hosted 3 concerts in the last 6 years including having Mary and Darcie lead our VBS this past summer. WOW!!! And praise God for the blessings He gives us through her music! If you have ever thought about hosting a concert, please feel free to contact me ([email protected]). Linda, her booking coordinator, can answer all the logistical questions. I can help you with the 'Can we actually DO this?' stuff! Because, YES, you CAN!!! And you'll be glad you did! (Phyllis Armbrecht)
"Mary is a delight to work with when planning children and family events. She is very detailed and organized throughout the entire process. Most importantly, she has a heart to share Christ with the world through her music. I have had Mary come do events at our church numerous times.  We love Mary's passion and excitement to share Christ and her love for children and families. Mary has been such a great inspiration, encourager, and a blessing for our children,the families we serve, and our teachers." (Michelle Bragg)
Our family went to the Home School Retreat and you were a featured speaker. You sang from your 15 Singable Songs CD and we were hooked! Thank you so much for making our children come alive as they sing from God's Word.  You have changed their lives for eternity." (Gretchen)
"I really appreciated your ministry at EFC Huntington Beach last week at the MOPS meeting with our young moms and mentor moms." (Pastor Balius)
Thanks, again, for your presentation at our Mother/Daughter Retreat. It was a special time for all the moms & girls. Thanks for being poured out for Him and allowing God to use your life in unforgettable ways. (Dawn)
"The Mary Rice Hopkins & Puppets with a Heart school assembly was fantastic — one of the best I have ever seen! The kids really enjoyed it, too." (Lynne)
"You are such a blessing and your music is impacting so many children and adults! I saw you in person at an ACSI Convention and loved your concert! Thanks so much for using your gifts to honor the Lord." (Carole)
Mary and Darcie ministered on Sunday morning for our two services about the importance of using our gifts and talents in stewardship to God. They also shared about God's available love, care and healing. It was a great time for our total congregation. Tots to seniors loved it! (Jo Ann)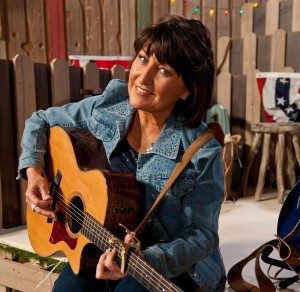 "Thank you for the joy you brought to my three kids and me through our 16 years at Family Camp. We always had such great times. Your singing still resonates in my head regularly! God bless you." (Jan)
In working with some of Mary's contemporaries, I have seen some wonderful concerts. When I work with Mary, it's not just a concert but an interactive experience. From the first song to the last, Mary's music draws the audience in…I said audience…not just kids.  (Mark Zimmerman, WCRF / Moody Bible Institute, Cleveland, OH – Community Relations Coordinator & Morning Team)
Prior to the Family Concert, we taught the children some of the songs ahead of time, so the audience participation was amazing! The absolute joy on their faces while singing brought tears to my eyes! One of the dads sought Mary out after the concert and I watched him. With tears streaming down his face, he said he would never forget this day–how quickly the children grow, and he thanked her for reminding him of all this. Another mom shared about not having any spiritual life at all (her husband was an atheist) and how the music touched her tremendously. She and her daughter then attended the evening concert held at the local church. Not long after it started, her husband came, too–entering a church for the first time! (Laurie)